Jaksinica Lun Island of Pag Croatia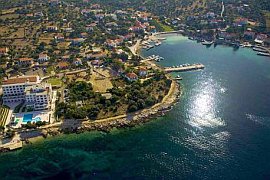 Jaksinica is a small town in the bay of the same name, which is located in the northwestern part of the Pag island called Lun.
Surrounded by Mediterranean vegetation and sheltered from strong winds, Jakšinica is a town of fishermen and hospitable hosts.
Peace and quiet in Jakšinica and its beaches hidden in nearby bays will be more than a good reason to return to Jakšinica next year.
Island of Pag Croatia
The island of Pag is one of the biggest Adriatic islands: it is the fifth largest island with 284.50 square kilometres. Its 270 kilometres of the indented coastline make it the island with the longest coastline on the Adriatic, rich with coves, bays, beaches and capes. The biggest bay, the bay of Pag, is rounded by 20 km of the gravel beaches. Pag is unique due to its vegetation where trees are the most rare form. Therefore, Pag is the largest kingdom of rocky ground on the Adriatic, where thin grass, low aromatic herb cover, sage and immortelle grow. They make the foundation of the nourishment of the island's sheep on the rocky ground, intersected by long dry stonewalls, giving a special flavour to the well known cheese of Pag.